Kenny Huang
Nominee details
Title

Dr.

Name

Kenny Huang

Position

CEO and Board Director

Organization

Taiwan Network Information Center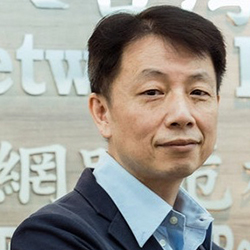 Biographical info
Education/Qualifications

PhD., Management Information Systems, National Chengchi University, Taiwan
MSc., Scientific Computing and Scientific Information Technology, South Bank Polytechnic London, UK
BEng., Chemical Engineering, Tamkang University, Taiwan
Relevant Board Experience

My relevant board experience includes: APNIC EC and Treasurer, TWNIC CEO & Board Director, NIIEPA (National Information Infrastructure Enterprise Promotion Association) Chairman, TWIA (Taiwan Internet Association) Board Director, and PIR (Public Internet Registry) Board Director.

Senior Management Experience:

My senior management experience includes: TWNIC CEO & Board Director, Chair of ccPDP4 WG, ccNSO, Co-Chair of ICANN CGP (Chinese Label Generation Panel), Advisory Council of DotAsia, and Author of IETF RFC3743.

I have been deeply involved in digital policy in Taiwan. My roles includes Consultative Committee member of ICDF (International Cooperation and Development Fund), Committee member of Telecommunications Universal Service Fund of MODA, Committee member of Critical Infrastructure Protection Program of Executive Yuan, Advisory committee member of Cybercrime Prevention Center of Taiwan High Prosecutors Office, Domain expert of NSTC (National Science & Technology Council).
Nominee statement
I feel honoured to be nominated for APNIC EC election. I've been working with APNIC community since the beginning thus I've been experiencing in different roles through community engagement. I am one of APNIC ECs. I was Policy SIG chair and NRO NC member. I am one of the authors of IETF RFC3743. RFC3743 is recognized as a critical element in the global IDN framework.
I am committed to work with the community to advance adoption and deployment of IPv6 and RPKI. The IPv6 adoption ratio in Taiwan had been increased from 0.5% in 2018 to 49% in 2022. The RPKI RoA ratio (IPv4 valid space) in Taiwan had been increased from 0% in 2018 to 99.5% in 2022. Things happened because many contributors devoted significant effort and time on this matter. As I accept the responsibility, I also commit myself to serve the community and make APNIC as an exemplary number registry to carry out APNIC's mission.
---
Nominated by
Organization:

Taiwan Network Information Center
Reason for nomination
Dr. Kenny Huang is an experienced APNIC EC and Treasurer. His contribution to APNIC policy development and dedication to the community has been greatly appreciated. His talent and dedication are invaluable asset to the community. Dr. Huang's working attitude and professionalism are highly appreciated by experts who have worked with him. I am confident that he will continue to bring significant value to the APNIC community as a member of the Executive Council.
---
APNIC Eligibility Statement
APNIC has not, based on the information provided by the Nominee, identified any information that would prevent the Nominee from serving on the APNIC EC if elected.
This notice has been published in accordance with APNIC's Nomination Due Diligence Procedures.
Disclaimer: The Nominee statement and video (if any) published on this page has been provided by the Nominee. Publication of this content does not constitute an endorsement, approval, or support of the information by APNIC.