Muhammad Kashif Nawaz
Nominee details
Title

Mr.

Name

Muhammad Kashif Nawaz

Position

Head of Business Development

Organization

EDOTCO Group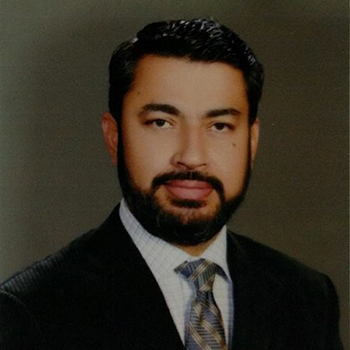 Biographical info
Education/Qualifications

Master's in science and Information Technology from Preston Institute of Management Science and Technology, Pakistan in 2008
Bachelor's in science and Telecommunication Engineering from National University of Science and Technology, Islamabad, Pakistan in 1998
Relevant Board Experience

I have served as an advisor to NCOC (National Command Operation Center) from NITB (National Information Technology Board).

As highly experienced in IP, Internet and cybersecurity, serving on top tech companies in Pakistan which include SNSKIES Private Limited, Augmenteknology Private Limited which is a subsidiary of Cronusdigital USA. My role in the board is to develop and guide executive teams of yearly tech plans and achieving targets.

Senior Management Experience:

Remain on Senior management position of tech companies over last 7 years which are following:

EDOTCO (Current Role as Head of Business Development, Pakistan)
NRTC (National Radio Telecommuncation Corporation) Head of Department special projects
Served in Pakistan Army Telecommunication Branch at senior level
Nominee statement
I have more than decade of experience in information communication technology (ICT), especially in the areas of network, network security and internet governance. I want to work for the development of underserved community in the region specially Pakistan, Malaysia and other developing countries for the reason to pay back to society.
---
Nominated by
Organization:

Connect Communication
Reason for nomination
Mr. Kashif Nawaz is well renowned in the Internet industry of Pakistan for his participation in the Internet development and his business achievement. He also serves as the advisor in NITB (National Information Technology Board of Pakistan). By serving on the APNIC Executive Council, Mr. Muhammad Kashif Nawaz will be able to bring his ideas onboard and contribute to the community and the people.
---
APNIC Eligibility Statement
APNIC has not, based on the information provided by the Nominee, identified any information that would prevent the Nominee from serving on the APNIC EC if elected.
This notice has been published in accordance with APNIC's Nomination Due Diligence Procedures.
Change log:
25/01/2023 – The Nominee profile was edited on 25 January 2023 at the request of the Nominee to remove a reference to "Mr Lu" in the 'Reason for Nomination', as provided in the original text by the Nominating Organization, and replace it with "Mr. Muhammad Kashif Nawaz."
Disclaimer: The Nominee statement and video (if any) published on this page has been provided by the Nominee. Publication of this content does not constitute an endorsement, approval, or support of the information by APNIC.