Roopinder Singh Perhar
Nominee details
Title

Mr.

Name

Roopinder Singh Perhar

Position

President Strategy and Planning

Organization

Netplus Broadband Services Pvt. Ltd.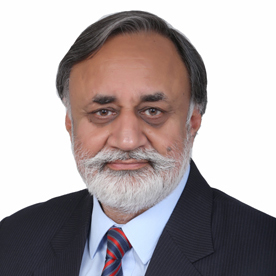 Biographical info
Education/qualifications

Bachelors in commerce
26 Years in Government Service at senior positions
Numerous short courses in Finance,Law,HR management, Logistics , Technology, Leadership and Management
Relevant Board Experience

I have served in senior positions in Government of India for 26 years with responsibility of managing large manpower, equipment, Logistics and Administration.
I was COO of Tulip Telecom. Was advisor to Board of Directors for all operational issues.
I am currently President Strategy and Planning of Netplus Broad Band Services Pvt Ltd also Consultant/Advisor to all the group companies.
I am on the Governing Board of Internet Services Providers Association of India since 2005 with short break in between.
I was founder Secretary of ISOC Delhi Chapter.
I am Vice President of Youth Technical Training Society an NGO doing work in field of Children Support, management of AIDS patients and Computer education to disadvantaged children.
I was on the Indo UK High Technology Group for setting up Nano Technology Education in India.
Was on the Telecom Regulatory Authority of India Committee on Next Generation Networks Committee.
Was on the Bureau of Indian Standards committee to set up wireless transmission standards for India.
I have been on APNIC Board from 2016 to 2018.

All my combined and varied experience of over four decades on senior board positions gives me enough knowledge to provide positive contribution to APNIC Board.

Senior Management Experience:

Management of Manpower at large scale ie in upto few thousands.
Fair understanding of Commercial and Industrial Law.
Deep understanding of logistics and its implementation at large national and international scale.
Management & Rules relating to HR Management and work place management at large scale.
Understanding of Technology and more importantly its usage for benefit of public at large.
Working in Committees set up for formulation of policies at national level.
Interacting and working with Governments at national Level.
Organizing and running of Companies , Industry Associations and NGO's at senior most level.
Interacting with world bodies ie ICANN, RIRs, IGF.
Understanding of Company Finance,Financial documents and analysis for decision making.
Nominee statement
I am honored to be nominated for Elections to The APNIC Board. I have been associated with the APNIC community since 2005 onwards. I led the Internet Service Providers of India (ISPAI) team to APNIC Conference in Bali and convinced the board to consider India as a destination for APNIC meetings. We successfully held the first APNIC meeting in New Delhi and thereafter we have held APRICOT and many meetings of our regional and international importance. I have been in the Telecom Sector for last decade and a half plus. I also helped initiate our case for NIR and its setting up in India.
As COO of Tulip Telecom Ltd I picked up valuable experience of operations, management of resources, logistics, evaluation of technologies for deployment, HR management at a national scale, financial management to ensure optimal expenditure and experience of functioning in a large telecom company at the top management and board level. My current assignment at Netplus Broadband Services Pvt Ltd as President for Strategy and Planning and Principal Consultant to group companies has given me further experience at board level to function at and manage large companies for which skills in, Financial Management, HR Management, Logistics, Sales and marketing, operations and legal matters is essential. In my term as EC of APNIC from 2016 to 2018 I have demonstrated these skills in EC board meetings and helped in improving the overall strategic planning, operational issues, better service delivery to community, financial planning, HR issues including issues related to work health and safety, relationship with other world bodies and legal matters. As APNIC EC these skills are essential to make meaningful contribution at board level and I feel I am amply qualified and experienced to ensure upkeep of members and organizational interests in a balanced framework. I promise to serve for benefit of complete APNIC community.
---
Nominated by
Organization:

delDSL Internet Pvt. Ltd.
Reason for nomination
Roopinder Singh Perhar has served in various capacities in both corporate and government organizations addressing the Internet and Telecommunications Sectors. He is currently the President Strategy and Planning of Netplus Broadband Services Pvt Ltd. He is also an Executive Council member of the Internet Service Providers Association of India (ISPAI) since last nearly two decades.
At Netplus, he started the company for the promoters and led the company to deploy innovative technologies to build locally sustainable networks at low cost while providing an international-class Internet usage experience. Prior to this, he was COO of Tulip Telecom Ltd where he helped the company establish a MPLS VPN Network spanning 1,140 locations across India. He also set up data centers in Delhi, Mumbai and Bengaluru.
He was elected as member of the Executive Council of ISPAI in 2005 and then Secretary ISPAI in 2006, during which time he was responsible in building sustainable business models with supportive technology for small ISPs who could spread Internet access into rural areas. He was also instrumental in getting to India the first APNIC and then APRICOT meeting and assisted in conducting. He was also actively involved in getting an NIR started in India, which is today established as IRRIN.
He has also been a member of various government committees in Telecom Regulatory Authority of India (TRAI) and Department of Telecom (DOT) eg. The next generation networks committee of TRAI, Spectrum Evaluation and Allocation Committee of DOT. He was also part of the Committee established by Bureau of Indian Standards to set wireless radiation standards in India. He was part of the Indo UK high Technology Group to promote Nano Technology in India. He has in the last decade been involved at ICANN, RIRs and IGF to further the cause and concerns of the Indian & APNIC community. He has been a regular and active participant in ICANN, APRICOT, APNIC, IGF, SANOG and INNOG meetings and has contributed in policy building. He has been in Top Management of various companies at board level and is fully experienced in Administration, Legal, Financial Planning, Sales, Marketing and Operations of running large companies. He is also the founding Secretary of ISOC Delhi Chapter. During his term as secretary he set up projects to teach computer education to deprived children. He is also the Vice President of NGO "Youth Technical Training Society" in Chandigarh which is into providing computer education to deprived children, monitor and provide assistance to HIV cases on behalf of Punjab Government and run Child Helplines for Ministry of Women and Child Welfare in Chandigarh Zone.
In Feb 2016 he was elected to the Executive Council of APNIC. During his term in APNIC he has contributed his knowledge and experience in matters related to Strategy, Human Resources, Finance and Operations with a view to further improve the customer relations, financial planning, strategy, in work health and safety related issues. His work and dedication as APNIC EC was well appreciated by his colleagues on the EC and others involved. We feel that his election to the APNIC EC board will bring a necessary balance of knowledge and wealth of unique experience for benefit of APNIC community as a whole.
I have had first hand experience with the problems that smaller organisations have when dealing with rules and policies that are out of date and no longer needed, and want to help reduce bureaucracy and unnecessary paperwork.
---
APNIC Eligibility Statement
APNIC has not, based on the information provided by the Nominee, identified any information that would prevent the Nominee from serving on the APNIC EC if elected.
This notice has been published in accordance with APNIC's Nomination Due Diligence Procedures.
Disclaimer: The Nominee statement and video (if any) published on this page has been provided by the Nominee. Publication of this content does not constitute an endorsement, approval, or support of the information by APNIC.