ABOUT APNIC EC ELECTION
Results
Congratulations to Yoshinobu Matsuzaki, Kenny Huang, Roopinder Singh Perhar and Anlei Hu on their election to the APNIC EC. They will each serve a two-year term of office.
The results are available to view.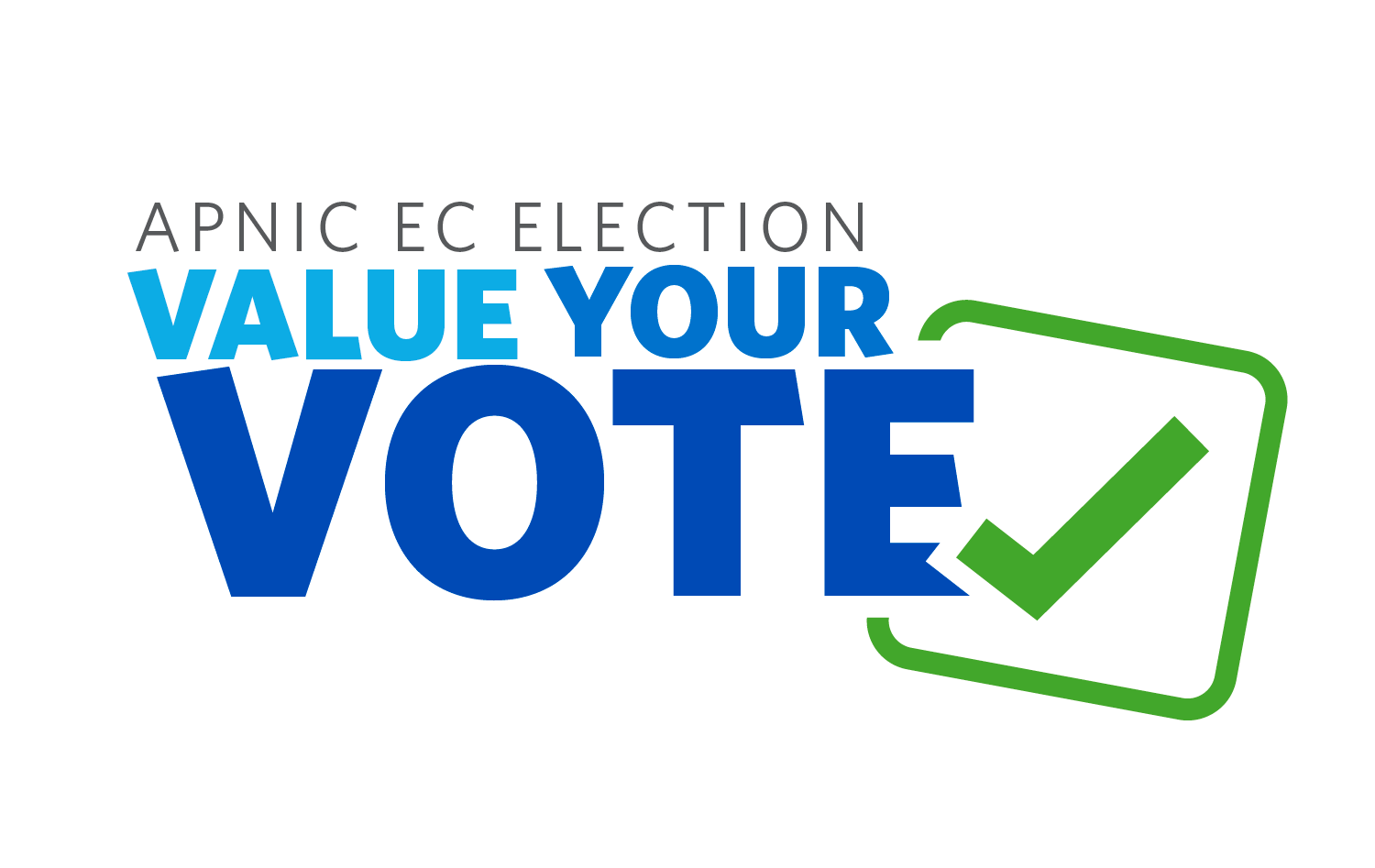 Voting is an important right of all APNIC Members.
The APNIC EC represents the APNIC Membership and acts in the best interests of the organization. It consists of seven elected members and the Director General of APNIC.
Each member of the EC serves a two-year term of office and is eligible for re-election at the end of each term. See a list of the current APNIC EC members.
Who can vote?
Only organizations with a current APNIC Member account are eligible to vote in EC elections.
Voting entitlements are only available to individuals who are Corporate Contacts or authorized contacts with voting rights given by the Corporate Contact.
If you're not the Corporate Contact, talk to the person who is the Corporate Contact in your organization to make sure they are aware of the election and voting deadlines.
If you don't know who is the Corporate Contact in your organization (but you're a listed Account Contact), you can find out in MyAPNIC under the Member Account Settings menu.
Who can I vote for?
Four positions on the APNIC Executive Council (EC) will be open for election at APNIC 55 on 2 March 2023.
You can view the nominees for the election here.
All candidates are bound to the EC Nominee Code of Conduct.
How do I vote?
Member online voting for the 2023 EC election opens on Thursday, 16 February 2023 and closes on Thursday, 02 March 2023 at 14:30 (UTC +8).
You can vote in three simple steps:
Login to MyAPNIC using two-factor authentication and click the 'Vote Now' link on the dashboard, to access the BigPulse voting interface.
Use the online ballot form to select the chosen candidates, and click the 'Next' button to complete the selection.
On the confirmation page, click the 'Submit' button to confirm the ballot submission, or 'Back' to make any changes.
Online voting is available 24 hours, 7 days a week during the online voting period.
If you have any questions on how to vote or the EC elections, please contact the APNIC Helpdesk.
You can find more information below: